Fake plastic surgeon "enhanced" patient's butt with tire-sealant injection
: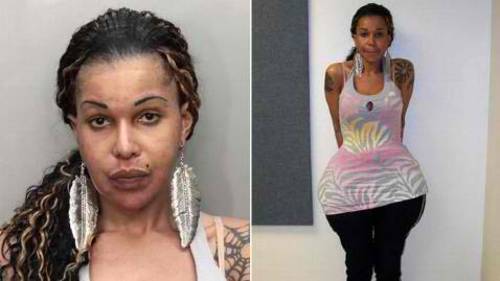 A Florida woman called Oneal Ron Morris has been arrested for performing dangerous cosmetic surgeries of her own devising, injecting his "patient" with a cocktail of tire-sealant, cement, and glue to "enhance" her bum. The victim has developed an MRSA infection and pneumonia.


Pictured here, Ms Morris.






"They agreed on the price of $700 for the procedure, which was intended for cosmetic purposes," Bamford said.



What the woman got for her money was a series of injections containing a bizarre concoction of cement, super glue, mineral oil and Fix-A-Flat tire inflator and sealant, police said.



Bamford said that the procedure was conducted not in a clinic, but in a residential setting in Miami Gardens, and that shortly after the substance was injected into the woman's body she developed what Bamford termed "severe complications."